I recently discovered a newer alternative to the "Learning a Language" platforms like Italki(review) and Preply(review) so I thought I would give them a try and see the difference.
Learning English online with a tutor is such a great experience and as a teacher and student myself, my life has been transformed by teaching English online and learning other languages such as Spanish, Portuguese and French.
What is LanguaTalk?
LanguaTalk is an online marketplace where you can learn a language from professional online teachers. They offer classes in 16 different languages so you can practice speaking the language you are learning from the comfort of your home.
Learning English online is the best way to make progress as you can be more efficient with your study. You just need to make an English study plan and take advantage of new technology like ChatGPT.
How much do the lessons cost on LanguaTalk?
The lessons on LanguaTalk can cost between $11 and $40 an hour. The price is set by the teacher. Teachers usually change their prices due to their experience and popularity on the platform.
So, for example, a very experienced teacher that is qualified to teach exams will probably charge more than a new teacher that has no students and no reviews.
When booking your classes, decide what it is you want. Do you want a more structured class or just an informal chat? Watch some of the teacher introduction videos and decide which teacher you think will provide the class you are looking for.
How does LanguaTalk work?
The main idea of LanguaTalk is that you can search through the teachers and easily choose the teacher that you want to have language classes with.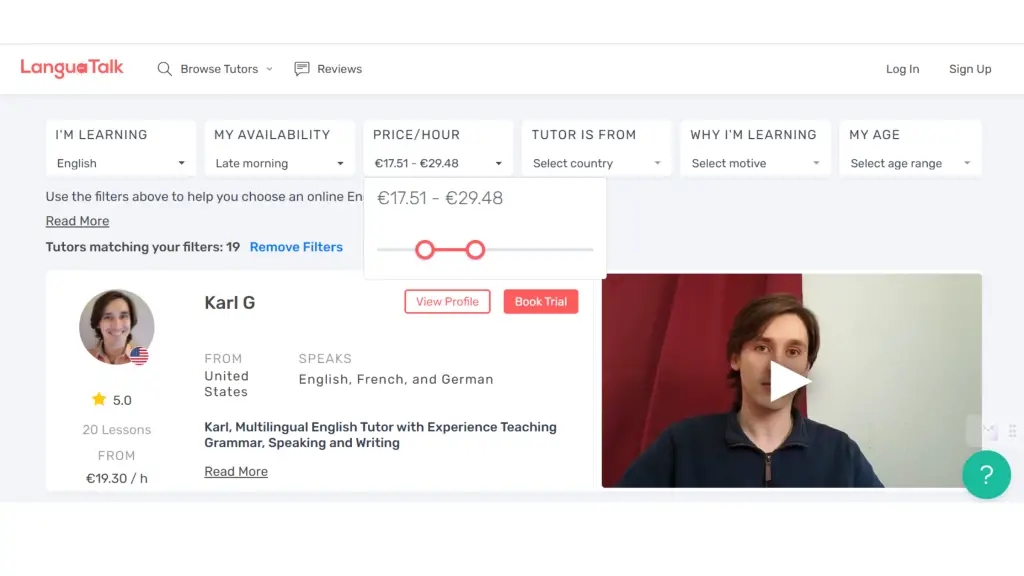 Step 1
The first thing that you need to do is to go to the "browse teachers" page and sort by your preferences. You can choose the language that you are learning, when you are available, the price you want to pay, your reason for learning and where you want your teacher to be from.
Step 2
When you find a teacher that you want, you should signup with your email address and then book a free trial lesson. This is a 30-minute lesson where you can decide if the teacher is a good fit for you and your needs.
Step 3
If the teacher seems good to you and you want to continue, then you need to pay and schedule some more lessons!
Benefits and Disadvantages of LanguaTalk
Benefits of LanguaTalk:
You can find the best teachers
Some of the best teachers around the world are now teaching online and LanguaTalk only allows the top 10% of applicants to teach on their platform. It can be difficult to find a native speaker to have an English class with if you are only able to have classes in your local area. Now, with the internet, you can have teachers from all around the world.
You don't need to leave your house
It can be expensive and time-consuming to go to an English school. You need to pay for the bus and spend time on the bus which is time and money that you could spend on an online English class. You can also have your English class in your pajamas! 
Private teachers
When you have a class with your own teacher, you improve so much faster. When you are in a big class in an English school, you don't get much of the teacher's time. You can also be distracted by other students in the class. When you study English online, you can practice your speaking and listening skills a lot more.
You can study when you want
Offline English classes usually only have classes in the evening or on Saturday mornings. You can book an online class with any of the websites above at any time you want. How good is that?
Disadvantages of LanguaTalk 
Newer platform/Not as many Teachers
LanguaTalk is a newer platform compared to Italki and Preply. There are thousands and thousands of teachers on Italki so you may be able to find a teacher more suited to your needs. Preply is great because you can also learn topics such as Math, Science, and Music.
Is LanguTalk Safe?
Yes, LanguaTalk is safe to use. Your money will be paid to the platform and the teacher gets paid from the platform.
There are certain conditions that you should be aware of like that your credits will only last for 9 months which is standard across all platforms.
Alternatives To LanguaTalk
Italki is a very similar service to LanguaTalk. One of the main differences is that Italki also offers many more features other than language lessons. LanguaTalk tries to simplify the process of having classes online. 
Conclusion
LanguaTalk is a great place to find a teacher online and improve your language skills. One of the main benefits of taking a class online is that you can practice your speaking skills with a real teacher but you can also ask your teacher to help you with grammar and vocabulary if that is what you need.