It is now possible to learn English online in many different ways. You can learn alone, with a teacher (native or non-native), free or paid courses and you can even use music to help you to improve your English.
When you are studying it is always important to focus on the 6 parts of learning English.
The 9 Best Websites to learn English for free
1.   Preply
Finding a teacher is one of the best things you can do to improve your English. Preply helps you to find a teacher and you can even filter for the country that you want your teacher to be from. That means if you want a teacher who speaks American English, you can choose a teacher from the U.S.A. You can also find a teacher that works in your timezone.Brilliant!
Preply also offers classes for Business English to companies so you and your co-workers can learn English together!
Lots of resources to practice the 4 skills of English and grammar and vocabulary. There are so many ways to learn English on this website. Podcasts for professionals, a Business magazine and even IELTS interview skills and tips.
3. Cambly
Cambly is the best website on the internet to learn English.You can speak with native English teachers, focus on your specific needs and re-watch your classes to learn from your mistakes. 
A great website where you can practice listening, reading and vocabulary. You can learn vocabulary about many different topics and I really like that the lessons are really interesting.
5. ExamEnglish
This website is great if you are interested in taking an English exam. You can take sample exams and test your level in English. You can also practice your grammar with exercises and there are clear explanations.
6. Ello.org
Great video and audio lessons. I recommend that you use my method of studying with this website. You can find my study method here.
8. Coursera
Lots of English courses for example Grammar, Writing, Business English. If you have a high level in English, you can also watch many of the other courses in other areas that you are interested in like Science or Business
9.Reddit
A great forum to ask questions and find tips about learning English. There are many native English speakers that will correct your mistakes and help you if you have any questions.
10. Word reference
My Favourite Dictionary. Use the discussion section to understand how people use the word or expression that you are looking for!
Paid Websites that you can study alone
Great courses that cover specific topics like Speaking, Listening, Vocabulary, Phrasal verbs and much more.
English academy that focuses on American English Pronunciation.
Websites to study with teachers
English learning platform with teachers from all over the world. Italki lets you book classes with teachers with skype and you can have a class where and when you want.
Lots of native English teachers here with a focus on speaking English. You can speak for 10 minutes or 2 hours! It is very flexible.
Read How much Cambly costs here
Websites to learn how to study a language
Benny Lewis believes that you should start speaking from Day 1. He helps learners to focus on the reasons why a language is not as hard as people say. Very motivating.
A similar philosophy and something we also believe here at One Minute English that the ability to SPEAK the language is the main objective. There is nothing wrong with being an expert in grammar or listening but none of that matters if you can't have a conversation with another person.
Websites for Beginners
English class 101 has great mini-lessons to start learning English, Greetings, Verbs, Conversations
Duolingo uses Pictures to help you when you start and then when you get more advanced you start translating from your language to English and vice versa. There is also a great forum if you have a question..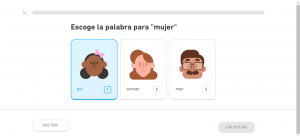 Websites for Intermediate learners
You can use any of the websites above especially British Council and Espresso English.
Websites for Advanced learners
Great long lessons with lots of vocabulary and listening practice. This is really for C2 learners.
Lots of reading lessons published every week about current events.
Websites to study with music
Listen to your favorite songs and improve your listening and vocabulary.Listen to your favorite songs and improve your listening and vocabulary. This is great for listening for details which is a skill that you need when you get to a B1 level. You need to understand a specific word in a sentence.
Start now….
You CAN learn a lot of English with these websites so please use them. Try to mix your studying practice every few weeks. For example, Listening. You can use BBC 6 Minute English, listen to music and write down the lyrics, Use Dictations or try the Espresso English listening course.
Every month analyze your own skills and knowledge. If you are bad at speaking, then book a class with a teacher. If you don't know your grammar, use this ExamEnglish grammar page and study.
It is your English journey and you are responsible for your own level of English. Learning English opens up a new world of culture, friendships, and improved career opportunities.
You have this, Let's go!!!
Leave a comment below if you use something else that helps you