The problem that most English learners have is that they do not have someone to practice speaking English to regularly. If you do not get regular speaking practice then you do not develop your speaking skills and then you can become afraid to speak English when you get the opportunity.
So if you live in a country where English is not spoken regularly (and even in an English speaking country, it can be hard to practice sometimes!) you need to find a way to practice your speaking.
Online classes are a great way to do that and you don't even have to leave your house. Conversation partners can also help you and if you can find one then you can learn from another person who is also learning English.
Who is Italki for?
Italki is for anyone who wants to practice their English. It is very helpful if you need to warm up your English before a job interview or if you need a professional teacher to help you with the grammar rules of the language.  
Italki might be a little difficult for you if you have never studied English and you don't have any vocabulary but I encourage you to start speaking as soon as possible in your language journey just like Benny Lewis from Fluent in 3 months.
What is Italki?
Italki is the biggest platform in the world to learn English. There are around 3,000 teachers available from every country in the world.
Italki is not like a traditional school(or many other online schools) as it does not provide the lessons. Italki provides a place for you to find a teacher.
So, in other words, you find your English teacher on Italki and then you have an English class on Skype.
How much does Italki cost?
The teachers set the price of the class with a minimum price of $4 to a maximum of $80. Most Italki classes cost between $10 and $20 per hour. You can get an extra $10 when you join here.
Usually, If you want a teacher from a native English speaking country you will need to pay $15 dollars per hour as the cost of living can be higher in these countries.
How to join Italki?
In order to join Italki, all you need to do is include your name and now you can sign up using your Email address or your phone. When you sign up, you can create a profile with a photo and describe yourself and write your language ability in English.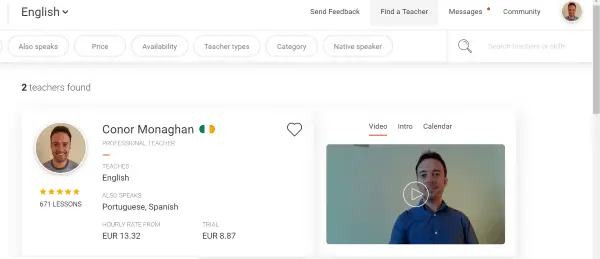 When you sign up you need to find a teacher. You can search for a teacher at the top right of the screen. You can then filter according to Country, Also speaks(Maybe this teacher can speak your language),Price, Availability and if the teacher is a native teacher or not.
Before choosing a teacher, it is a good idea to watch the teacher introduction video and to read reviews that other students leave. You can tell if this is the teacher for you as maybe the teacher has lessons that are more grammar focused or more speaking focused and then you can choose your teacher depending on what you need. If you don't know then you can take the Italki English level test or take a look at my article here for advice.
My advice is to schedule a trial if the teacher seems like a good fit for you. Trial classes are only 30 minutes and usually very cheap.
I am scared!! It is my first class online!!!
I know it can be scary to talk to a stranger online but trust me it is not a problem. Teachers  on Italki are very friendly and it is normal for them to help people learning English. I teach 4 or 5 students every day and help them to improve their English. You are not alone.
What are the Lessons like on Italki?
The lessons on Italki are usually more conversation focused but you also have business English, test preparation and classes for kids. You can also find teachers that specialize in pronunciation or grammar or maybe you need a teacher to help you with the IELTS exam.
There are two different types of teacher. Professional Teacher and Community Tutor. Professional Tutors have to submit their teaching qualifications to Italki and Community Tutors are usually teachers in training or native speakers who enjoy helping other people to learn English.
Can you become fluent with Italki?
Yes, you can definitely become fluent in a language with Italki. To achieve fluency in a language, you need to practice speaking the language as much as possible. 
Italki allows you to practice speaking as you have a one-on-one class with a tutor. 
Is Italki a trusted website?
Yes, you can trust the Italki website. As you can see above, I have taught more than 500 lessons on Italki and I have received payment from Italki.
I have also taken many lessons in Spanish and French and haven't had a problem with the website. 
How do I pay for Italki?
Italki uses a credits system where you buy credits from Italki and then Italki pays the teacher when the lesson is completed.
To purchase credits you can go to "My Wallet" which you can find when you click on your picture on the top right of the screen. You can buy credits with your credit or debit card or use Paypal.
What else can you do on Italki?
There is a community section on Italki where you can meet other language learners and improve your language skills in different ways.
In the community section you have for example:
These are tips usually written by teachers to help you think about learning in a different way. You can also learn about different cultural aspects. I love the tips that you can find here.
This feature gives you a chance to practice your writing skills and hopefully someone will correct your writing for you. Nice!
   This section allows you to ask a specific question that you have a language. 
Discussions are great if you want to talk more about a specific area related to language learning or anything really.
This is a great feature which you can use to practice English if you can find someone learning your language. This is easier if your native language is Spanish or Chinese as these languages are popular for native English speakers to learn. You can spend half the time speaking your language and the other half speaking English. Try to organize this before depending on the time you have available. 1 hour Spanish 1 hour English. If you can't find a native English speaker learning your language then try to find someone else learning English and practice with them.
The main benefits of online English classes with Italki are:
You can study from home.

You can study when you want.

It is often cheaper than local schools

Lessons are more personalized(one to one classes)

You can chose a teacher from anywhere.
You can have an English teacher on your computer and you don't have to waste time going to an English school. This is great if you are busy with work and you only have an hour or two free per day to dedicate to learning English.
English schools cost a lot of money in big cities like Dublin, London, São Paulo, Madrid and Moscow. There are some great schools teaching English but it can be difficult to know if they fit what you need. With Italki, you can find a teacher that gives you lessons specifically for you!
I have taught English in Ireland, Brazil and Spain and I have seen English learners improve in schools there. There is one problem though. There are always shy students who do not feel confident SPEAKING English.
This is the benefit of one to one classes. You can get a personalized lesson that is right for you and you get to speak to a teacher for one hour. Just for you!
A review from one of my students!
Some people might find it strange to have a teacher on their computer but I know that this is something that will be normal after a few lessons. Everybody is waiting for the perfect time to start something new and the best time to start is now!!
Another benefit is that you choose where you teacher is from. A lot of my students book lessons with me because they are interested in Ireland(I am Irish). So, If you are more familiar with English from the U.S.A then you can book a teacher from there or Australia or England or Scotland or ….. wherever really!!
Italki is well reviewed by many of the Polyglot(speak more than 2 languages) Youtubers like Benny Lewis and also other English teachers like Gabby Wallace, All ears English etc etc.
Some of the other websites that provide a similar service
Cambly (cheaper in the long run) 
Preply classes start at $5
Read my full review of Preply here.
What I don't like about Italki
It can be hard to find the teacher that suits your needs. I don't think the rating system works. Nearly every teacher has  a 5 star rating which is not really helpful when deciding between teachers.
My advice is to try as many as possible but you only have 3 trials available and I would like to see that increased. Here is a great guide I found on Fluentin3months how to chose a teacher.
Conclusion
The main problem I see with people learning English is not enough speaking practice. Italki is a great platform to find teachers and other people learning languages. This is probably the best part of Italki that so many people who are interested in languages gather there.
There is so much material there to help you learn English from experienced teachers to other people learning with the same questions that you have.
I love that you can learn so much about language and culture from all around the world, so if you want to learn more about English and every other country (You can learn any language on Italki, don't forget!)