KoalaWriter is the latest A.I writing tool to help you write blog posts and other written content online. KoalaWriter is especially good for creating content as a lot of the problems with creating content with ChatGPT have been fixed.
In my opinion, KoalaWriter is the best A.I writing assistant on the market as it makes it super simple to create a high-quality article that needs minimal editing. The difference between it and other tools is that you can save a lot of time and publish much faster.   
What is KoalaWriter?
KoalaWriter is an AI writing tool that uses OpenAI's ChatGPT(GPT4) to help writers generate high-quality content quickly and easily. The user interface is simple to use and you can choose whether you want to use GPT 3.5(which ChatGPT currently runs on) or the new model GPT4.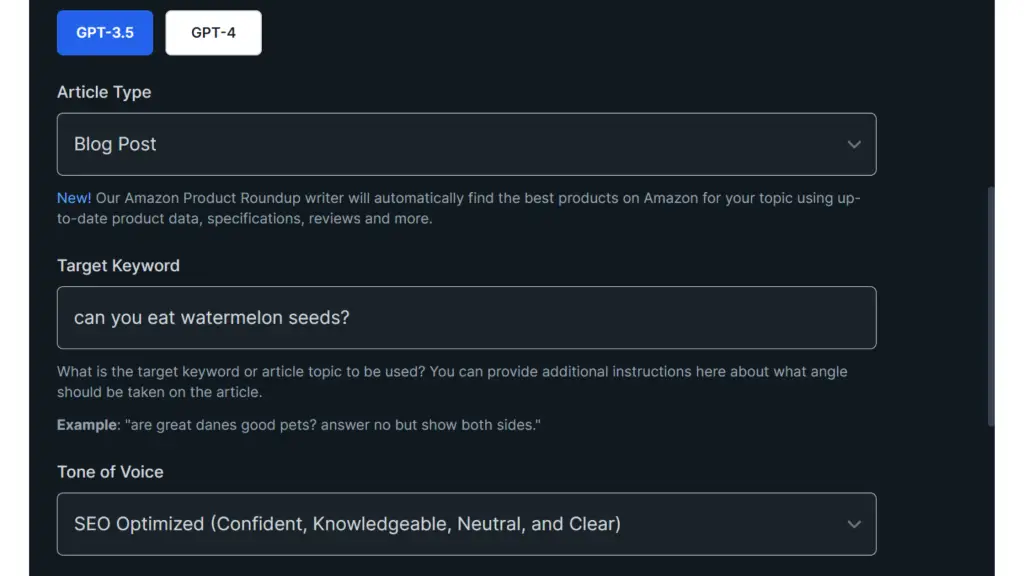 Once you put in the title of the blog post that you want to produce, you then need to select the tone of voice you want. I usually leave it on the default SEO-optimized professional tone. 
You can also decide if you want to add in real-time data which means that the tool will also include the latest information from the internet.
There is also a feature to include an outline for your article. I always do this(even with ChatGPT) as you always get a better article when you give the A.I a structure(same thing with a human no?) to work with.
There is some space that you can add in extra prompts which is a nice touch.  
Here are my custom prompts for KoalaWriter:
Do not include a conclusion in this paragraph Do not use discourse markers like furthermore, additionally, however or Overall. Can you make all h2 headings bold
This prompt will help your writing to sound more humanlike.
KoalaWriter Pros
Provides the best quality content out of any A.I writer I have tried

Very easy to use

Connects to the internet to gather information from Google

Provides extra templates like Amazon roundups

One-click WordPress upload coming soon   
KoalaWriter Cons
Can get expensive if you want to create a lot of content

Can repeat itself sometimes
KoalaWriter vs ChatGPT
Ok, so you might be asking why you should pay for KoalaWriter when you can use ChatGPT for free. 
Well, I don't know about you but I always have to spend a lot of time messing around with ChatGPT trying to get it to do what I want. I also need to spend a lot of time editing the content to get it they way I want it.
KoalaWriter gives me back content similar to the way I would get it back from a freelance writer. The content is good but sometimes I need to add/subtract/change a few things to get it to a standard I deem publishable.  
Try KoalaWriter here and get 5,000 credits free!
KoalaWriter vs Jasper
I usually have the same problems with Jasper AI that I do with ChatGPT. It just takes me too much time editing to make it worthwhile. Don't get me wrong, it can give you a great start but the output is just not comparable to KoalaWriter.  
With KoalaWriter, you are so much closer to the finished article that it makes paying for it a no-brainer. It is also cheaper than Jasper. Jasper AI is still a good choice for you if you do lots of content online like social media and KoalaWriter is better for you if you write blog posts for search engines. 
Is KoalaWriter Free?
Koala Writer is not free to use but you can give it a try with 5,000 credits here. There are also extra features that I didn't mention above like its ability to cite sources, integrate with google sheets(for bulk publishing) and create more than one post simultaneously(something you can't do with ChatGPT)
If you are on a budget then, I recommend Notion's AI tool which only costs $9 a month and provides decent quality.  
KoalaWriter Pricing 
The main plans for KoalaWriter are:
$9 a month for 15,000 words

$25 a month for 45,000 words

$49 a month for 100,000 words
Conclusion
KoalaWriter is the best A.I writing assistant that I have found and I immediately started creating articles with it. It speeds up the process of writing so much when you have a workable first draft.
I personally hate editing and prefer writing from scratch so this makes creating content with A.I doable for me.