If you have proposals for your business to complete, it can feel like just one more stressor in your busy schedule. When considering a technological shortcut, you can learn all you need to know in our guide: Can AI write proposals? (Tips for Improving Your Work Proposals)
AI tools like JasperAI can help you as a writing assistant to create text that you can use in your proposals. Better Proposal AI can improve your proposals by providing proposal templates, suggest more persuasive written phrases, and even providing ideas and research statistics from current trends.
In this article, we will cover how AI services can help you to write the proposals you need to get out at work, along with some other tips that can improve your proposals. We'll even answer some of the most frequently asked questions on the web concerning these issues! Let's get started.
What is AI?
"AI" stands for artificial intelligence. It is a technological brain that can cut down the amount of time you might take to catch errors in spelling, and grammar choices, and even optimize the amount of words you use when writing anything. Proposal AIs, like the one created by Better Proposals, optimize this process specifically for business proposals.
The way a business proposal works is boiled down to comparing the proposal you've written to data it compiles from sources across the web about your specific industry. Then, it recommends changes to boost your conversion rate! Let's break down exactly how artificial intelligence can help you to write proposals at work.
How AI Can Tools like ChatGPT Help You to Write Proposals At Work
Learning that an AI is actually a technological mind that processes, compares, and supplies information to improve your written words is a little overwhelming. The question is, what specific improvements can an AI make to your all-important proposals? Check out the list below to gain the answer!
Providing Ideas – Even if an AI suggests a word or phrase that doesn't particularly fit your business proposal, it can still go a long way toward getting your own creative mental gears turning and generating ideas.
Providing Statistics – AI can cut down on valuable time you might spend researching current business trends or statistics in your industry by compiling them for you in just a few minutes. You will need a tool like JasperAI to provide current statistics as ChatGPT doesn't have current data.
Providing Spelling and Grammar Corrections – Many AI can look over your proposals and not only offer current business statistics and ideas for more optimal phrasing, but it can flag grammar and spelling errors, too. We all make mistakes, but an AI can help you correct yours and put your most professional foot forward in work proposals.
Providing Persuasive Writing – A client should be able to not only feel informed after reading your proposals, but be convinced that you have the qualifications and tools they need to solve a problem. Some of this is communicated through hard facts, but most of it is done through persuasive writing, which AI can provide suggestions for!
The process to use A.I to write a proposal
Here is a sample way to speed up your proposal writing:
Choose a Template from Better Proposal
Use ChatGPT or JasperAI to write the content of your proposal.
Edit text and use Better Proposal A.I to check your work
Let's look at these steps in more detail
Choose a Template from Better Proposals
Better proposals have a huge range of proposal templates that you can choose from and they are tailored to each industry. Why bother starting from scratch when you can use one of their many templates that look beautiful.
Here is an example for accounting:
You will have to now edit the template with your own words to make it unique. This is where you can use A.I tools to help you.
Use A.I to write your content 
You can now use A.I to populate the text as part of the proposal. You can either use ChatGPT or JasperAI to do this.
I use Jasper a lot because it has many pre-built prompts that help you depending on your situation and the output is generally better than ChatGPT.
Check out this prompt that will help you write your proposal: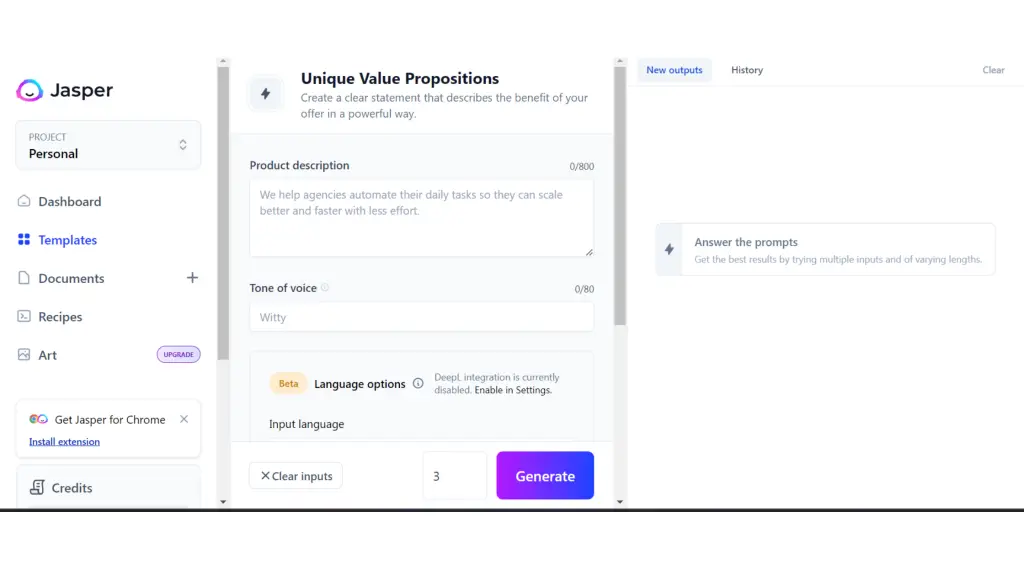 ChatGPT can also be helpful but I usually only use it for generating ideas and not for text output. It also has the problem of always being at overcapacity and not available.
Edit and Check with Better Proposals
You will always have to edit A.I written content to make it sound better and include things that are unique to your company and the company that you are offering your services to.
Better Proposals have a new A.I tool where you can get many suggestions to improve your proposal. This can be as simple as spelling and grammar to suggestions based on the current trends in your industry.
Tips For Improving Your Work Proposals
Perhaps you've used an AI and are looking to enhance your work proposals even further! If this is the case, we have a list of tips for you to consider when checking your work proposal for issues or looking to enhance it's productivity.
Be Succinct – A business proposal may require you to offer lots of information, like pricing and your own list of experiences relevant to the task at hand, but it is important to deliver this information efficiently. Try not to waste words, and walk the line between persuasive and efficient!
Optimize Formatting With Better Proposals – Going to the Better Proposals website will open the door to a whole host of possible improvements on your proposal. Better Proposals can give you consultation on how to best format what you've written so that it grabs your audience's attention and holds it efficiently.
Offer Pricing Options – Not every business model supports variances in price, but if yours does, it will be helpful to share this information and can help your client to feel well-informed, as well as build trust between the two parties.
Frequently Asked Questions
Looking for more information on whether or not AI can write proposals, or how to improve your writing for your business? We have you covered with our Frequently Asked Questions section below!
How can AI help solve business problems?
There are many ways AI can be useful outside of their stellar aid in writing effective business proposals. One of these is making marketing more effective by analyzing the averages of customer behaviors and predicting what they might do according to suggested marketing strategies.
Another is actually related to customer support. Although human interaction has its advantages, some forms of AI can streamline the process of reaching the right expert in a company to answer questions by chatting with a customer about what problem they may need resolved.
Finally, AI can help solve the issue of fraud by flagging suspicious activity or even plagiarized content sold to businesses under false pretenses.
How does AI help in business decision-making?
AI is particularly helpful in aiding the leaders of a business in making the right decision because AI is equipped to run algorithms that predict the most likely outcomes of a marketing strategy or customer's response to certain product changes. This is called "prediction analysis," and it is based on data that the AI is given as examples of past statistics.
How do you write a successful business proposal?
To make a written business proposal successful, it is important to have an excellent format to organize your proposal first. If information is unclear, you could find clients losing interest or becoming confused before they've seen what your business has to offer.
This formatting issue can be resolved by utilizing helpful services from experts like the ones at Better Proposals.io. It is also important to summarize the answer to the question "why?" behind your business' existence and benefit to the client. This is sometimes done most simply by stating a need that your qualifications allow you to solve. Don't forget to add pricing, too!
In Conclusion
To sum it all up, AI can write proposals for work. They are also effective in improving your work proposals by checking spelling and grammar so that your business maintains a professional image, offering phrasing suggestions to make your work more persuasive, and providing fresh ideas and informative statistics!
These can help take your proposal to the next level, not only optimizing the attention you need from clients, but keeping your proposal updated according to current business trends. On top of all of this, you'll be able to save yourself valuable time that would otherwise be spent on research, too!