Italki and Preply are similar platforms where you can choose a teacher to learn English. In this article, we will compare the websites to see which is better for the student.
Italki and Preply both have a lot of teachers that can help you to learn a language. The differences are small, Preply prepares you a little more with a study plan but Italki has more features that you can use to improve your English. 
Prices of classes
The teachers on each platform choose the price. There is not much of a difference in the price of the classes although Preply is cheaper in lower-priced classes($2-$10)  and Italki is cheaper if you want a class with the mid-priced classes($10-20). Remember to decide how much you can afford to pay and make a budget so you can decide how much you want to pay.
Advantages of Italki
Trial lessons
Italki allows you to book 30-minute trial classes with different teachers and usually this is at a lower rate. This is a great option when you are trying to decide on the right teacher for you. Unfortunately, there are only 3 trial classes per account.
Free Features 
There are a few free features that come with Italki. You can write homework in the notebook section. You can have a discussion and talk about anything language-related. You can also find language partners to practice for free. (Native English language partners are very hard to find.) For more about these features, read my review of Italki.
Advantages of Preply
Preply Space
The Preply Space is very similar to Skype but works a little differently. It is a great way to review the vocabulary that your teacher wrote for you and for your teacher to share materials with you.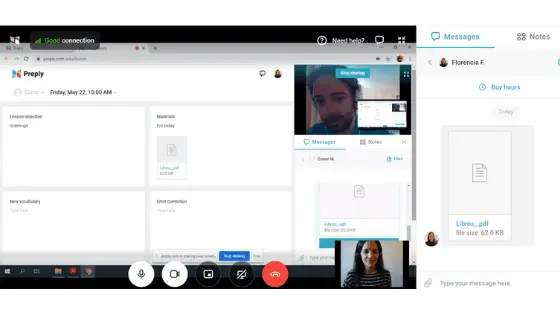 Very cheap classes
Preply has some of the cheapest online classes. Some teachers are only charging $3 an hour which is very cheap. Italki prices start from $4 an hour. Of course, the quality of the teacher usually goes up with the price so try to check if your teacher speaks English correctly!
Disadvantages of Italki
Processing fee
When you book a class on Italki you need to pay about 4% of the amount to the payment providers(Visa, Mastercard etc). On Preply, you only need to pay $0.30 every time you buy hours. 
Italki classroom
I have been a teacher on Italki since 2017 and I almost never use the Italki classroom. I don't see the benefit over Skype and I have often had connection issues. It is getting better and I think they will improve this very shortly.
Disadvantages of Preply
No flexibility on packages
When you buy some hours with a teacher, you need to stay with that teacher. I think it would be better if you could change teacher in case there is a problem or just so you could have access to different teaching styles.
Teacher commissions
The teachers have to pay a very high commission when they start and that isn't fair. A lot of great teachers won't accept this and for that reason, I think that the quality of great teachers is likely to be higher on Italki.
So that's it 
The most important thing that you need to do is get started. Choose a teacher and have a class. If you are not happy with the class, then book another class. Find a teacher who works well with your learning style. Do not get discouraged, Learning English online is a little different from learning in a classroom. You need to take more responsibility for your study and your classes.