In this review we will look at:
What is MosaLingua
How much does MosaLingua cost?
The Benefits of MosaLingua
The Problems of MosaLingua
Is MosaLingua worth it? Is it good?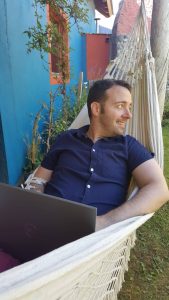 Hello,
My name is Conor and I am an English teacher from Ireland. 
I love learning languages and helping people to learn English online.
What is MosaLingua?
MosaLingua is a language learning platform that includes video, audio, and reading practice. It uses a Spaced Repetition system with flashcards so that you can review the new vocabulary that you have learned. 
There are also extra courses that you can take: 
How do you sign up for MosaLingua?
Click here to start signing up for MosaLingua
Click the link above and you will see all the products offered by MosaLingua. This review is based on MosaLingua Web but they also have apps so that you can learn on your phone. 
When you click on the MosaLingua web page, you then go to the MosaLingua Academy. Here you can start your 15-day free trial to see if MosaLingua is a good fit for you.
Follow the steps below and you will start your language challenge.
The language challenge
The language challenge is a great way to get started or improve your level of English. The good thing about the challenge is that you get the specific steps that you need to do in order to achieve your goal.  There are 6 different challenges which allow you to practice all of your skills in English.
The 6 language challenges
Listen to a dialogue

Learn 10 new words or phrases per day

Translate your favorite song

Read a chapter of a book

Watch a short video

Have your first conversation
In each challenge, you have about 6-10 steps that you need to do to finish the challenge. They are different for each challenge and usually involve listening/reading/watching and learning vocabulary. I love this because it is using many of the different skills of English together.
Starting your challenge
When you start your challenge they will ask you some questions about your level and why you are learning English. They will then ask you to choose your level or take a level test.You then watch a video explaining how spaced repetition works.
You then watch a video with a friendly instructor and they give you more information about the challenge.
What is included on the website
App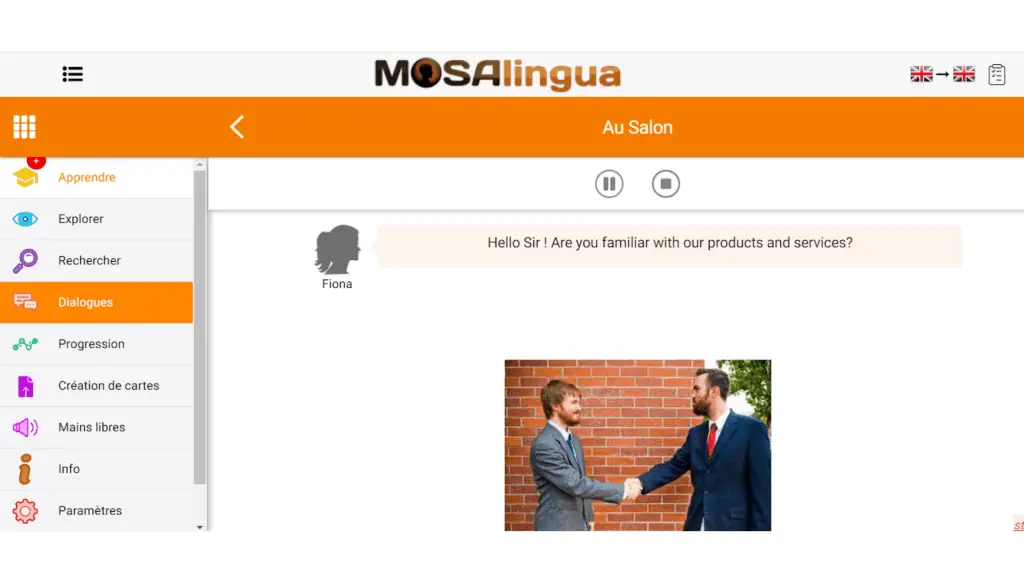 The app allows you to listen to audios and make notes and learn vocabulary. It also asks you to record your voice so that you can practice the sounds of English. There are many lessons that you can do and you can also check your progress.
In the app you can find lessons about:
English
Business English 
TOIEC vocabulary
TOEFL vocabulary
Medical English
I prefer the lessons with audio dialogues but I understand that if you are preparing for an exam, it is important to improve your vocabulary so the flashcards work well here.
The audio library is a great place to find books and audio books in English. You can listen and read to texts for beginners and intermediate level books.
The discovery tool is a way to check the meaning of words that you don't know and get the translation. It works on the MosaLingua website and you can also use the chrome extension so you can use the discovery tool on other websites.
The videos page lets you watch videos and look at the transcript so you can read at the same time. This is another way to practice your listening and reading skills and improve your vocabulary. This is similar to the FluentU method.
Community
The Community page is a list of resources that MosaLingua recommend. That is a bit disappointing. You are encouraged to participate in the community with MosaLingua but I haven't found an engaged community. If you are looking for an engaged community and discussions about language learning, then I recommend Italki or reddit.  
Some Example lessons
There are so many types of lessons on MosaLingua that I will just show some lessons here.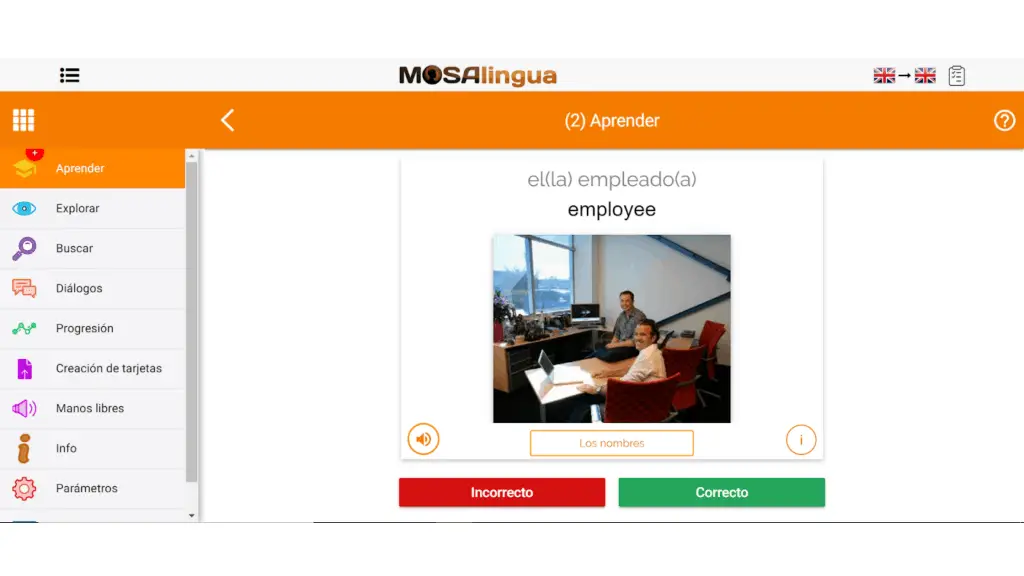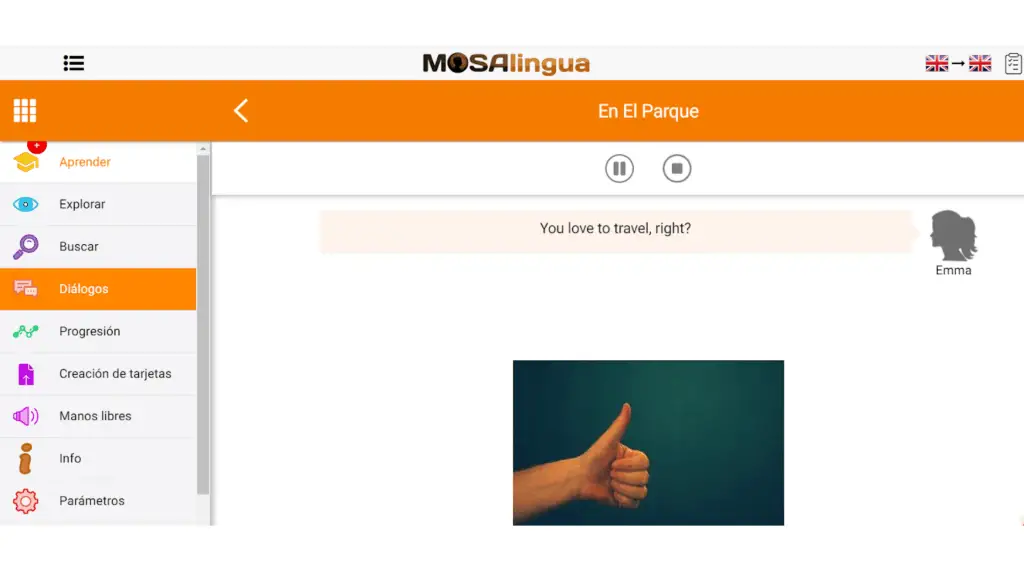 This dialogue lesson is great to improve your listening skills. This is a great way to learn new vocabulary through story. 
How much does MosaLingua cost?
MosaLingua gives you a 15 day free trial but after that you need to pay. It costs $5 per month or $59.90 for the full year.
You can pay with Debit/Credit Card or Paypal.
Your subscription will renew automatically after one year.
The benefits of MosaLingua
1. Good guidance /Challenges
I really like the challenges. It is great to have a goal because learning English can be a long journey so it is important to have different milestones. I usually have certain goals that I want to achieve like "to understand a conversation with natives" and even "not have a native speaker ask me where I am from(because my language skills are not interrupting the flow of the conversation)".These challenges can keep you motivated to continue.  
2.They recommend classes with Italki
Speaking English regularly is the most important thing you can do to improve your English. Live classes are not a part of MosaLingua but instead of forgetting about speaking English, they recommend Italki. This is a great sign that they care about if you improve your skills. Italki is a great place to find a teacher and you can read more about Italki here
3. Fun/Motivating/Variety
I enjoyed the lessons a lot on MosaLingua. I like the fact that you can read,watch videos, listen to audios. I recommend that you vary your study a little bit so that you don't get bored. I made a free study plan here with a lot of variety and which covers everything you need to improve your English.
4.Good support
The support team with MosaLingua is very good. I had a question and they have a live chat function and they answered my question immediately.
The Problems of MosaLingua
Overwhelming/Confusing
Even though they have very friendly helpful videos helping you to understand the platform, it can be a little confusing to know what you are supposed to do. I hope with this review, it will make things clearer for you. There are a lot of things to do on MosaLingua so it takes a little time to get used to the platform.
I don't have any big problems with MosaLingua. I think it is a great supplemental platform to speaking English with Italki and studying grammar.
Is MosaLingua worth it? Is it good?
Yes, MosaLingua is worth the money. 5 dollars a month is not a lot to get access to all their materials and system to improve your language skills. It is a good way to study English and the variety of the language lessons will help you to improve your level.
I especially recommend MosaLingua to intermediate English learners as this is the time when you need to study lots of native English content to increase your vocabulary and understand how English works as a language.