Podcasts are a great way to improve your English. You should try listening to a few especially if you find it difficult to understand native English speakers.
I love podcasts because you can listen to something about nearly every topic possible and learn more about things that interest you. In the past, it was difficult to find experts talking about your favorite subject and I encourage you to find a podcast about something that you enjoy in English.
This is of course if you already have an intermediate level or above. If you don't have that level, don't worry! I made a list of podcasts that will help you improve your English.
Why are podcasts good to improve your English?
Podcasts are a great way to improve your LISTENING! Listening to people speak without being able to see the person is great practice for your listening. This will help you when you speak English on the phone or talk to someone from a different culture where the body language is different.
You can also learn how people speak in English and learn how to use new vocabulary. This is so important to understand exactly how to use new words and many English teachers provide a podcast to help you. Take advantage of this!!
Podcasts are great because you can listen to wherever you like. All you need is your phone. You can listen in your car as you drive to work or on the bus/metro. You can go for a walk and continue to practice your English. If you work with a computer it can be good to give your eyes a break and listen to a podcast and continue to learn.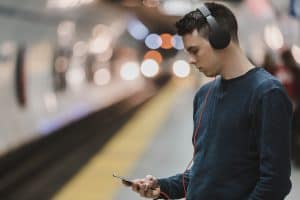 5 Best podcasts to learn English on Spotify!
         1. Espresso English
https://open.spotify.com/show/3apZ4F9LH9oI6DIjiQl6zR
Espresso English is one of our favorite websites to learn English and this podcast is just another way that Shayna gives English learners more tips to help them improve their English.
What you can expect to find:
Vocabulary lessons

Phrasal verbs

Pronunciation and Grammar tips
Find out more with Espresso English Online courses
Adept English
https://open.spotify.com/show/7ixeOS7ezPTZSaISIx2TTw
Adept English focuses on listening so it is great that they have these podcasts to help you.
What you can expect:
English tips

Grammar

Pronunciation
 English Plus Podcast
https://open.spotify.com/show/0mPNCwVSQ8ggY3Wo3a4RPy
Danny Ballan can help your English with lots of clear explanations.
Including:
Grammar explanations

Listening(Poems, Stories, etc)

Writing tips

Vocabulary
Skillshare course https://skl.sh/3cUOsaG
BBC 6 Minute English
https://open.spotify.com/show/3CF9ANEicXGxEROA3cOryE
I have been recommending this podcast for years. I love how they talk about a wide variety of topics and you can learn vocabulary about things that you might not normally be interested in.
What you can expect:
Interesting topics

New vocabulary

British accents
Plain English
https://open.spotify.com/show/3BThje2qx6WvjZT6iU3oMy
In this podcast, the speaker(Jeff) talks about current events in a slightly slower than normal speed to help you have more time to understand. Podcasts are released every Monday and Thursday.
What you can expect:
News stories

Slower than normal language
You can also find the transcripts to their podcasts on their website
Where else can you find podcasts?
If you have an iPhone then you can also access many podcasts with Itunes. If you have an android phone then you can download Spotify for free. You can listen to music and podcasts for free but you may here advertisements. I use Podcast Addict so I don't need to listen to advertisements.
Use podcasts as one part of your study
Podcasts are one part of your study. You can't depend on them to speak English fluently. You need to take an English class to improve your Speaking skills or you could also take an English Course if you want to increase your knowledge in a structured way.