In this Review of Espresso English I will show you:
The Espresso English courses
How to use  the courses
What I like about the courses
What you don't get with the courses
Alternatives to Espresso English.
Espresso English was started in 2012 by Shayna Oliveira and over 10 million people have used the website since that date. 
You can start using Espresso English with the free E-books and English lessons that are sent to your Email. I personally used the grammar lessons on the website with my students because they are easy to understand like this one to explain the Present perfect.
This is a great way to get started learning English but there is much more to Espresso English than that. There is a great podcast, a youtube channel and there are also the online courses which you can use to improve your English faster. 
Let's look at these courses in detail now.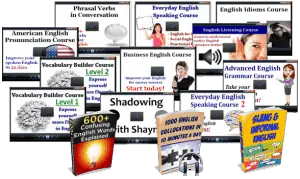 The Espresso English Courses
There are currently 13 courses that you can buy from the Espresso English website(with a new advanced vocabulary course).
The courses consist of a video introduction and then each lesson has audio and text to help you learn new vocabulary and practice the skills. There are usually quizzes at the end of each lesson to help you test what you learn. 
You can also leave a voice message to practice your speaking. This is great to practice the vocabulary you are learning. You listen to the audio  and read the text. Then at the end of the lesson you speak and record your voice and answer a question about your life. 
In lesson 2 of the speaking course(talking about apartments and neighborhoods) for example, you learn new vocabulary like "studio apartment" or "I can't afford it". Then at the end of the lesson you must describe the area that you live. 
Each course has between 30 and 45 lessons. There are free samples so you can try and see if you like the courses before you buy. 
How to use the courses
The courses usually work either with a video lesson or some audio and text. You should study one lesson per day and study the courses in this order.
You should also use these courses as a way to learn English which can be different to speaking English which I will discuss below.
Espresso English Pros
Shayna is obviously a very professional and experienced teacher and you can see this in the ways she delivers the lessons She speaks very slowly and clearly so students of all levels can understand the content. 
The lessons are interesting and really help you to understand real English the way native speakers really speak. There are lots of lessons I have never seen before like slang, interjections and an advanced grammar course which can be hard to find for students.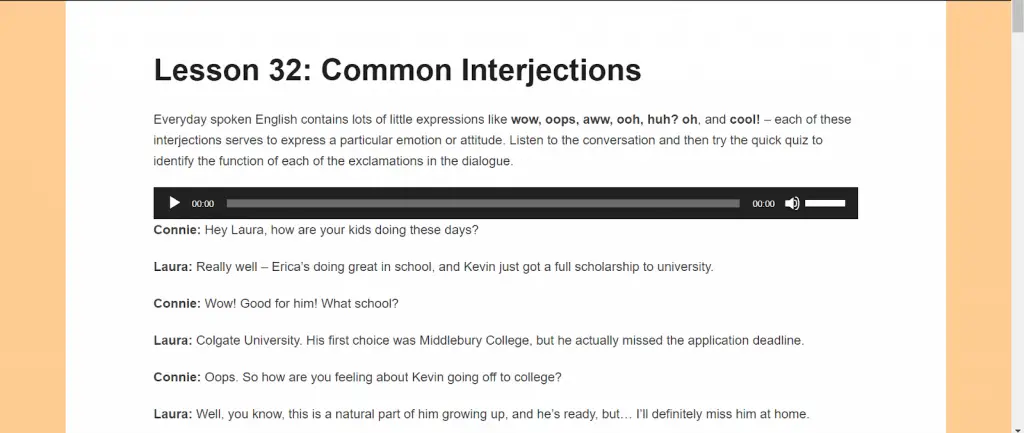 This leads me to the second thing I like about Espresso English courses. You find courses that target specific areas at a reasonable price. Other courses are 500 or 600 dollars but maybe you just need to practice one part of English and you can do that for around 30 dollars. Phrasal verbs are a good example where students often need to practice more but maybe their reading skills are good and they just need to practice this specific topic. 
I also really like that you can get feedback  from Shayna when you record your voice and there are also homework exercises to do. Use this section if you buy the course and you will improve so much. Feedback from a teacher is so important to know if what you are saying is correct. Use this resource! 
Espresso English Cons 
One thing you don't get with Espresso English is dynamic speaking practice. Sometimes when you speak English in real life,  people can just start talking to you about anything. This is difficult for English learners. The only way to practice this is speaking with people and I advise you to do this. You can try Cambly or Italki to talk to native English speakers.   
Espresso English courses prepare you for lots of different situations which is great but sometimes native English speakers will be talking about a topic that you will not be familiar with and you will need to figure out what they are saying  
Who are the courses for?
The courses are for all levels of learners but I would recommend that you have at least Pre-Intermediate to make the most of the course. Find out which course is best for you here.
Serious students
If you are a serious student and really need help with your English then there is a 50% discount for the complete program here
To Sum up…
In my opinion, and what I tried to show you in this review, is that  Espresso English is one of the best resources on the internet to learn English. I think you need to use a course like this and also continue to practice your skills with a service like Cambly and you will make progress fast.