Notion A.I is the best all-round A.I writing tool if you are writing online. The amount of features that Notion has means that you can improve your writing in English and any other language with a click of a mouse. Amazing!
During my review, I focused on the capabilities of Notion AI, ranging from generating content for blog posts, meeting agendas, and social media posts to summarizing lengthier texts and correcting grammar and spelling errors. The AI tool also offers translation services and the ability to modify the tone of your writing.
What Is Notion AI?
Notion A.I is a tool that allows you to use A.I to do many tasks including:
summarize text
generating blog posts
write essays
checking writing for grammar and spelling.
translate documents from one language into another
explain complicated texts
It is very easy to use and it is the only content editor that currently includes A.I although Google have announced that they will include A.I in Google Docs soon.
What Can You Do With Notion AI
I've been using Notion AI for a while now, and it has truly transformed the way I approach writing tasks. Here's a breakdown of some notable features and capabilities of this A.I. writing tool:
Check Your Grammar and Spelling
With Notion AI, I no longer have to worry about grammatical errors or spelling mistakes. The built-in spell check and grammar correction feature keeps my writing polished and professional. It takes care of it all for me, so I can focus on crafting the perfect content. Notion AI has a fantastic grammar and spelling checker that makes the editing process smoother.
Translate Documents
Notion AI can also assist with translating documents. All you need to do is highlight the text that you want to translate and click on "Ask AI" and then choose "translate" and the language that you want to translate into.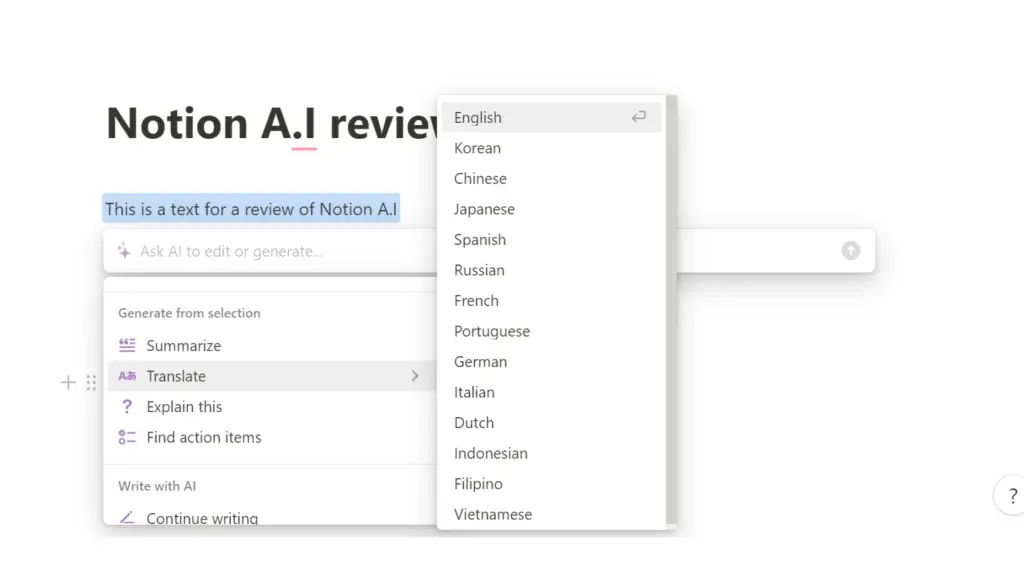 Create a First Draft Blog Post or Essay
One of my favorite features of Notion AI is its ability to effortlessly generate a first draft for blog posts or essays. By providing a prompt, Notion AI can produce text and offer suggestions for creating content quickly. It has saved me loads of time and becomes an essential part of my content creation process. The output is of good quality but it is not at the same level as KoalaWriter.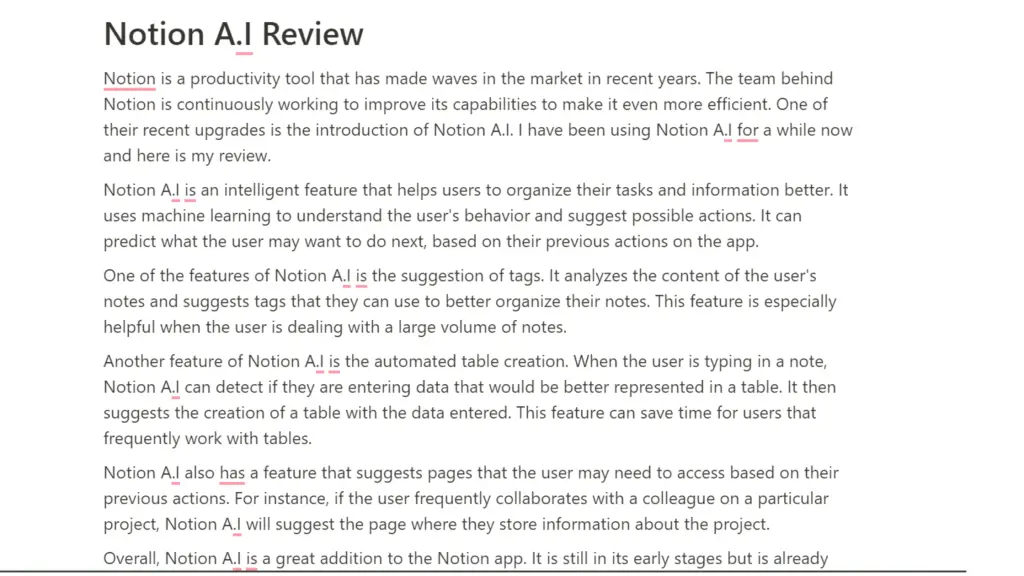 Improve Your Writing
Notion AI has helped me improve my writing as well. As I use the tool, I learn from the suggestions it provides and incorporate them into my writing style.
If you struggle to write in English, then this tool will really help you out. This is especially helpful for people who use English as a second language as it can improve your English to sound more natural.
Expand Your Writing
Another great feature of Notion AI is the ability to extend my writing. Sometimes, I need to add more information, but I'm stuck for ideas. Notion AI can analyze my text and offer suggestions to make the content more comprehensive and informative. It's a handy feature for those moments when I need some creative assistance and inspiration.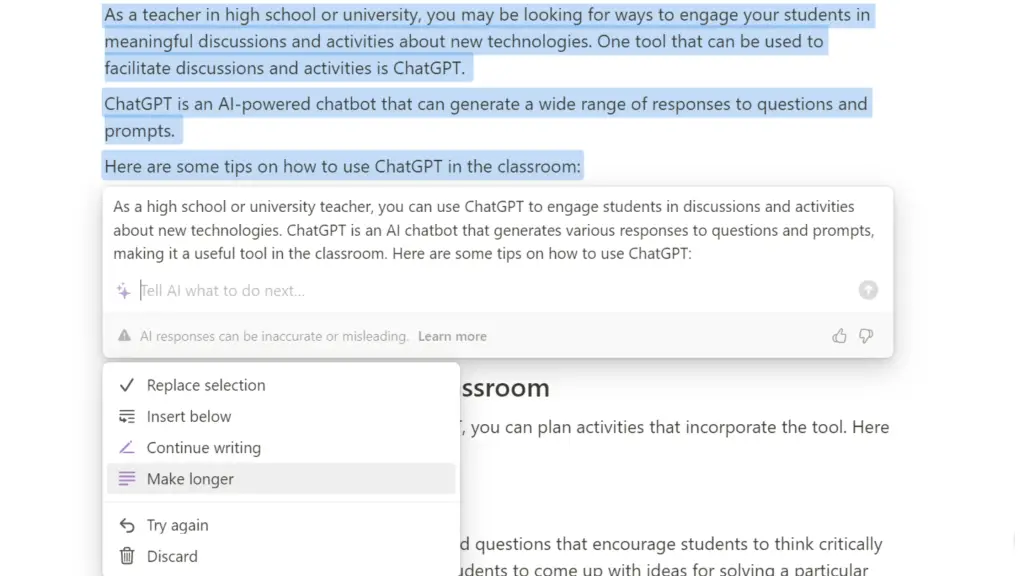 How Good is Notion AI?
When I first started using Notion AI, I was impressed with the range of tasks it could handle. From generating content for blog posts and meeting agendas to summarizing lengthy text, this AI-powered tool helped me significantly streamline my workflow.
Notion A.I is amazing for short texts and for improving your writing though I wouldn't use it for full blog posts. For Full Blog posts written by A.I, I use KoalaWriter.
How Long Can You Use Notion AI for Free
In my experience using Notion AI, you could use the AI features for free during the promotional period; however, this promotion has ended on April 5th, 2023. During the promotion, each workspace user had 20 free AI responses.
After the free trial period, you'll need to subscribe to a paid plan to continue using Notion AI. I discovered that Notion AI is available as an add-on to Notion plans, including Free Plans, for $10 per member, per month. A 20% discount is available for Plus, Business, and Enterprise customers who opt for annual billing, as stated in the Notion Help Center.
Pricing Plans
When it comes to pricing plans for Notion AI, users can access AI features by adding it as an add-on to their existing Notion plan for $10 per member, per month. This includes Free Plans, and a 20% discount is offered to Plus, Business, and Enterprise customers who opt for annual billing plans Notion Help Center.
It's important to keep in mind that the pricing for the AI add-on is separate from Notion's core plans. You'll still need to subscribe to one of Notion's existing pricing plans, such as their Free, Personal, Team, or Enterprise plan, depending on your specific needs and preferences.
Alternatives to Notion AI
As much as I appreciate Notion AI for its capabilities as an AI writing tool, it's important for me to consider alternatives in case there's a better fit for my needs. After researching various options, I've found a few alternatives that are worth considering.
One alternative to Notion AI is Jasper AI. This AI writing tool offers a variety of features, such as content generation for blog posts, social media content, and more. Another option is ChatGPT, an AI-powered chatbot that can generate text based on the given context. This may be a useful tool for drafting conversations or dialogue in a narrative, for instance.
If you are a blogger, then I highly recommend you check out KoalaWriter. It is the best blog post writer for A.I writing and you can get 5,000 words free here
Conclusion
In my experience, Notion AI has proven to be a helpful and efficient writing tool. The AI assists me in crafting well-structured content, while also saving time by automating repetitive tasks. Its natural language processing capabilities have been particularly beneficial for generating outlines, emails, and blog posts quickly and effectively.
As a writer, Notion AI has helped me improve my writing style by offering suggestions to enhance grammar and tone. The AI can easily summarize lengthy text, turning it into concise information that's easier to digest.
While there are several AI writing tools available, I've found Notion AI's seamless integration with the familiar Notion workspace particularly appealing. This makes it a more efficient solution for my everyday writing needs and helps augment my creative process.
Ultimately, my experience with Notion AI has been positive, and I believe it is a valuable tool for writers seeking to streamline their content creation process while maintaining high-quality output.