ChatGPT has been taking the world by storm and many people have been using it to perform work tasks like writing emails.
If you are not sure how to write an email with A.I then let's have a look at that first.
How to use ChatGPT to write Emails
The first thing that you need to do is to setup an account with Open A.I here
Then, you can ask ChatGPT for an email that you want it to write. You should always, always check your email for factual incorrectness and use Grammarly to check spelling and grammar.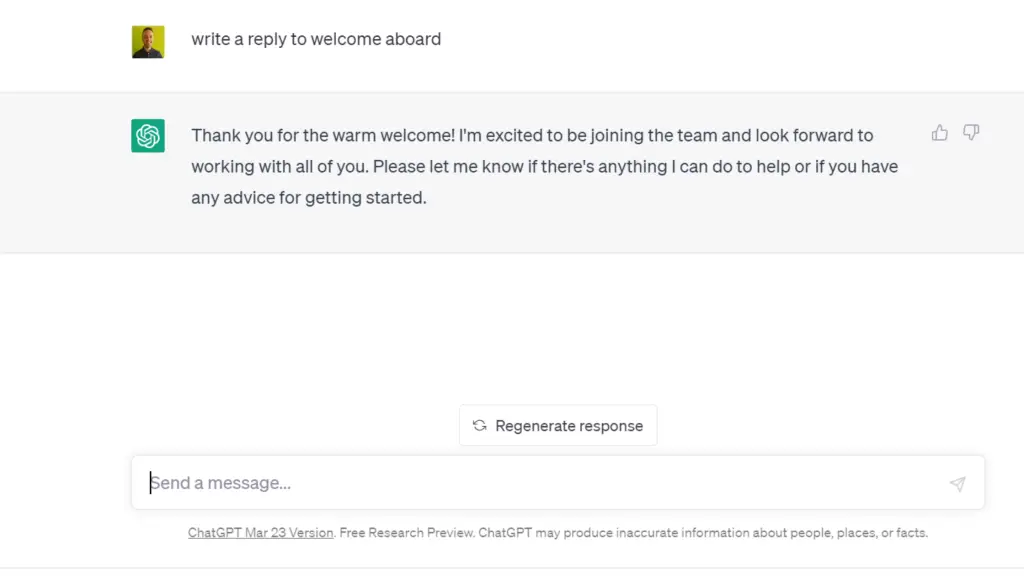 By the way, you can see my human written responses to welcome aboard here.
A.I emails better than ChatGPT?
ChatGPT gives you ok email response but I have found a tool that gives you much better responses. It is called KoalaChat. Koalachat can connect to the internet so you can also use it to collect information about people and companies to personalize your email.
In this A.I email, I asked KoalaChat to write me an email to Matt Mullenweg from WordPress and to find something interesting that I can connect with him. KoalaWriter found out that Matt has an interest in Photography which I didn't know about!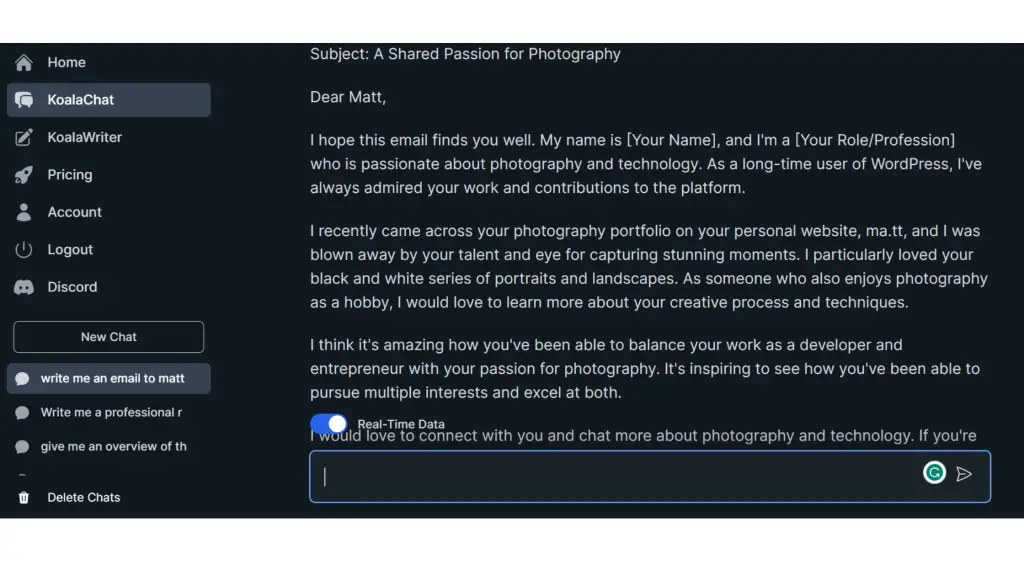 You can also write full blog posts with KoalaWriter and you try 5,000 credits here
What emails can you ask ChatGPT to write?
You can ask ChatGPT to give you a sample email from any topic that you want. You do need to be careful though and some emails need to sound more like they were written by a human.
Here are some topics that I have written about that may need a human touch. These emails have all been written by me:
Can you use ChatGPT to reply to emails?
Yes, you can use ChatGPT to reply to emails. ChatGPT usually gives you decent responses but you may need to edit them a little bit to make them sound more interesting and personal.
A little tip while prompting ChatGPT is to set up the situation. If you are a teacher then tell ChatGPT to imagine it is a teacher and it will give a better answer.
ChatGTP email example prompts:
Imagine you are a teacher, write me an email to a parent explaining that their son Toby was misbehaving in class
Imagine you are a salesperson, write me an email to a client asking for a meeting.
Imagine you are a restauranteur, write an email to a supplier asking for a discount on the price of sirloin steaks
How much can ChatGPT write?
One limitation is that ChatGPT can not write thousands and thousands of words. If you need some longer text, like a blog article, then try out KoalaWriter which provides excellent quality blog articles written by A.I. You can try KoalaWriter here